PCS Edventures Inc. (PCSV)


One of the biggest thrills in the market boils down to finding a company right on the verge of moving to the next level. That's where PCSV is now.

PCSV designs and sells programs that teach kids about STEM (Science, Technology, Engineering and Math). That's a huge educational priority for the White House, Bill Gates and an all-star cast.
Demand for STEM classes is so intense that PCSV more than DOUBLED its sales last year and even posted an operating profit last quarter.
You don't see the "P" word often with these stocks that trade around $0.05 to $0.10. The fact that PCSV is throwing it around now is extraordinary.
And even a novice trader can appreciate what the one-time transition to EBITDA does to a start-up chart like PCSV: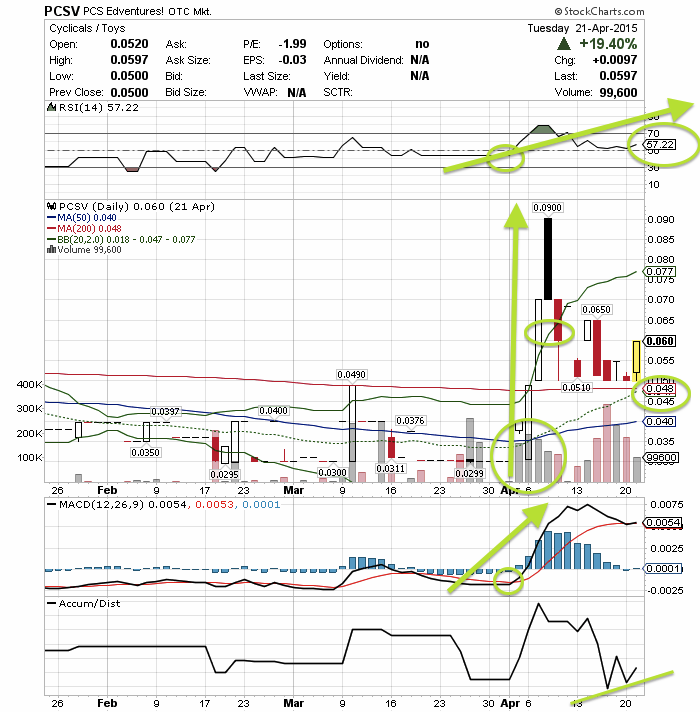 The buzz on PCSV has gotten so fierce that news of even a standard product launch has started triggering 200% bull runs.
The market knows that PCSV is already in the scoring zone. "Economies of scale" are already working in its favor. So every new order and every new product pushes the needle of fair value harder and faster.
As it is, the VOLUME on PCSV so far this month is tracking above double March levels. That's a BULLISH signal.
The latest press release drove PRICE ACTION so far through the roof that it smashed all moving averages and the upper Bollinger Band. BULLISH.
Traders took profit on the last 200% score, but the ACCUMULATION floor is still higher. Fewer PCSV shares in circulation is BULLISH.
And look at what the big move did to the MACD: anyone with a trade screen can see that the TREND on PCSV is MIGHTY BULLISH indeed.
What's the big deal about STEM lessons? Every country on the planet needs to train higher-tech workers. It's a $2.9 BILLION budget item.
The White House just freed up another $240 million in grants to promote STEM education, including $90 million to teach "underrepresented" kids (minorities and girls) more math.
PCSV is already in position to do that. Here's their program for girls, practically gift wrapped for a slice of that rich government largesse.
Meanwhile they're raking in 6- and 7-figure orders for the existing lessons. There's $400,000 over here, $120,000 from Texas, ten times that much sales to Saudi Arabia.
All in, PCSV has started booking revenue at a run rate around $3 million a year. Since cash flow now matches market cap, that's a real achievement.
Whether you like EV/Sales or PTR as your top line metric, PCSV is clearly evolving beyond the sandbox where a lot of $0.05 stocks play.
EBITDA isn't enormous yet, but it's POSITIVE . . . and besides, that's the thrill in trading on our end of the market.
We know PCSV is still pretty close to the ground floor. There's a long way to go before it's an educational powerhouse.
But with actual EBITDA on the books, we can see that the fundamental floor is rising. Recent price action and all that momentum say it all.
If that's the kind of trade that gets you excited, PCSV probably already has your gears spinning ahead of tomorrow's open. You're our kind of people!

Sincerely,

PennyStockSpy
Disclaimer:
Stockchat LLC has received seven thousand dlrs via a bank wire from a third party.